Inspired by healthy living?
Yes, at Sprouts we sell food, but we are also making a difference in people's lives. We're looking for team members who will go above and beyond for our guests because it is the right thing to do, not because someone is looking.
Never worked in a grocery store? Romaine calm! We'll provide all the training you need.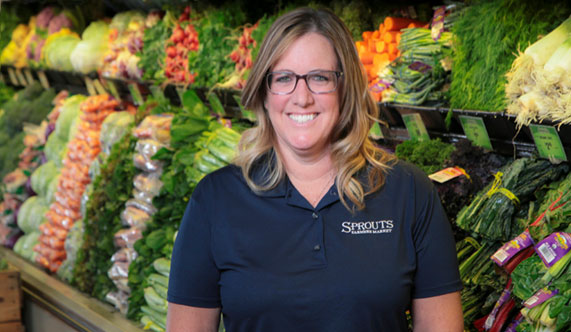 Store and Regional Team Members
Whether you're running registers, helping our customers, displaying great business operations skills, or aiding team members in the field, there's never a dull moment working at Sprouts. Our store and regional team members are the face of Sprouts nationwide. Store team members, from cashiers to managers, are responsible for delivering excellent service in a fast-paced environment. Regional team members work with stores across the country to ensure that team members in all departments are achieving our goals consistently and effectively. With our tremendous growth, there are endless opportunities to learn, serve and grow together.
Apply
See Career Path
Distribution & Quality Control
Part of what makes Sprouts special is our unique product supply chain. If you like being at the center of the action, a career at one of our regional distribution centers may be right for you. Whether it's managing deliveries or ensuring our produce is at peak freshness, our distribution center team members play an integral role in delivering healthy products that meet strict quality standards.
Apply
See Career Path
Support Office Team
Based in Phoenix, Ariz., the Sprouts Support Office is the hub of the company. More than 400 team members here are buzzing with effort and creativity which has fostered our innovative and fast-moving culture. Their tasks might be different than those completed by our store team members, but both teams work as one to serve our customers along their healthy living journey. In addition to merchandising and operations team members, we bring together HR, IT, finance, real estate, accounting and marketing professionals in our collaborative and modern office.
Apply
Veterans at Sprouts
Sprouts is deeply committed to hiring and supporting military veterans. Their leadership ability and work ethic are unmatched, and a perfect fit for our "People Powered. Purpose Driven." culture. We invest in growing the careers of military veterans through formalized training and professional development. With hundreds of stores from coast to coast, we invite you to discover a fresh opportunity with Sprouts!
Join Sprouts' Talent Community
Join our talent community today and be notified about new career opportunities for you at Sprouts Farmers Market.
By signing up, you'll receive:
Email alerts with new career opportunities that match your interests
Notifications about events taking place in your area
Information about your field of interest
Relevant news about Sprouts Farmers Market
Create a profile and stay connected!