Step on in!
You'll notice we do things differently once you step foot in a Sprouts. The heart of our store is filled with bountiful displays of fresh produce. We also offer everything else on your grocery list, including fresh meat and seafood, a full-service deli, dairy, eggs, frozen foods, bulk foods, vitamins and supplements, baked goods, and craft beer and wine. Ninety percent of our more than 19,000 healthy products are natural or organic, plus, you'll find thousands of gluten-free, plant-based, grass-fed, non-GMO and raw items. Looking for something specific or feeling adventurous? Ask one of our friendly team members who will help you find the right product or discover something new.
Farm Fresh Produce
Produce is our passion. It's what we're famous for, and shoppers love our abundant selection of fruits and vegetables that give our stores a welcoming farmers market feel. Whether you're shopping for the freshest seasonal, specialty or organic offerings, you can count on Sprouts to have it.
Curious about a rambutan or persimmon? Just ask, and a team member will slice a sample for you on the spot. Not so adventurous? Don't worry, we've got your apples, berries and bananas as well, and at prices that will make you do a double take.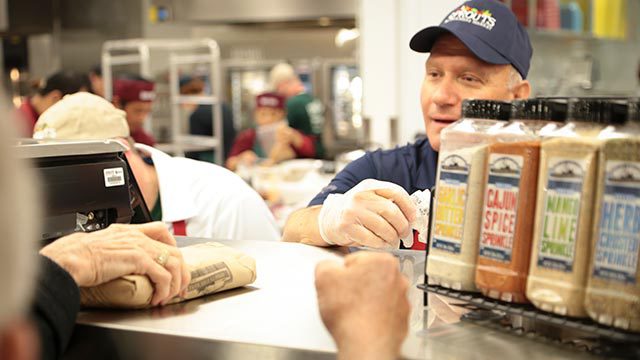 A Cut Above the Rest
Head over to the meat and seafood department and you'll be greeted by a trained butcher who will hand-cut any piece of meat just as you like it. Whether you're seeking fresh seafood for your paleo diet, or a simple family dinner, we have something for you. We feature always fresh, never frozen, grass-fed and USDA Choice beef; all-natural and organic chicken; all-natural, farm-fresh pork; and fresh seafood that's delivered up to six days a week. If you're lucky, you'll stop by when we're sampling some of our freshly ground sausages which we make in-house daily.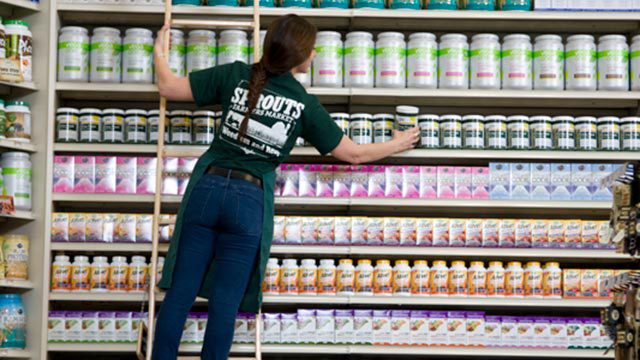 Vitamins and Body Care
We obviously love food. But we also believe in the power of natural vitamins and supplements. We've heard countless testimonials from customers describing how vitamins and supplements helped them bridge the nutritional gap in their diets where eating fell short. You'll find more than 7,500 top quality products in our Vitamins department, including natural remedies, functional food and herbal supplements. If you don't know ashwaganda from zinc, don't worry – our friendly team members are eager to guide you through the aisles.
We also believe that what you put on your body is just as important as what you put into it. So be sure to check out our expansive selection of natural and cruelty-free health and beauty products. From hair care to soaps made with essential oils, we've got you covered.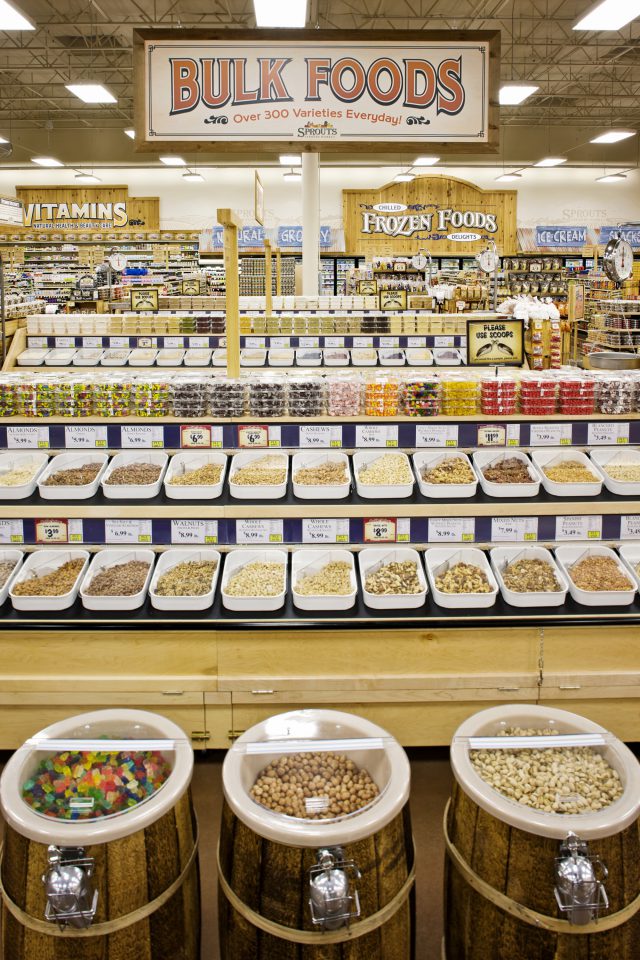 Bulk Foods
Our Bulk Department can't be beat! We feature hundreds of bins and barrels brimming with freshly roasted coffee beans, rice, nuts, dried fruits, granolas, trail mixes, baking essentials, spices and sweet. Indulge in irresistible treats like dark chocolate cashew clusters or good-for-you items like rolled oats. And, if you're looking for quick, grab 'n' go bulk foods, shop our selection of prepackaged items. We also carry a great assortment of products to meet your healthy lifestyle and dietary needs, including no sugar added, sugar-free, organic and natural items.
The beauty of buying in bulk is that you can scoop up as much or as little as you need—whether that's a teaspoon of turmeric or half a pound of pecans. It's not just good for your wallet, it's good for the environment, too.
Products you love for less™
Our selection of more than 2,400 Sprouts Brand products range from everyday grocery essentials, like olive oil and frozen vegetables, to unique specialty items ranging from matcha powder and grass-fed ghee. You'll love the exceptional value, unique flavor profiles and quality found in each and every Sprouts Brand item throughout the store. And we're always rolling out new products, including seasonal items to ensure there's something new and fresh for you to discover.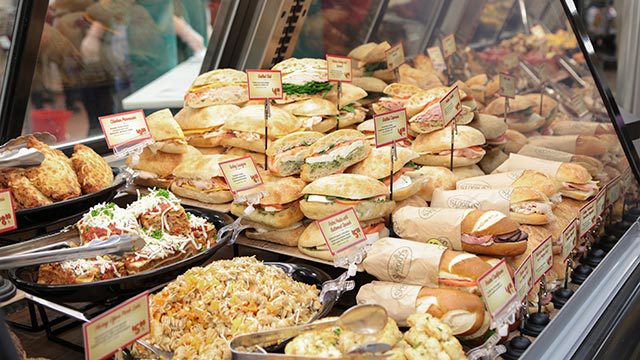 Good Food to Go from Market Corner Deli
We know time is of the essence, and that now and again convenience is key. The Market Corner Deli is here to help. We offer quick fixes like wholesome sides, fully prepared entrees and ready-to-eat and ready-to-heat meals to grab for a time-saving and tasty lunch or dinner. We're also ready to do the prep work for your special event or get-together. From fresh-cut seasonal fruit, satisfying wraps and sushi made just for you, let our Deli department create an artfully arranged catering tray that's sure to please.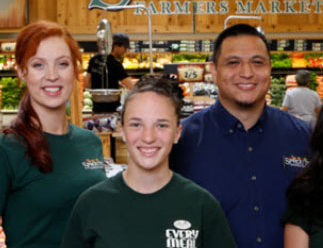 Our Team
At Sprouts, we pride ourselves on our knowledgeable and friendly team members who are eager to support our guests along their healthy living journey. We hire passionate people, and invest in their training to help them succeed in sharing healthy living for everyone. That's why when you have a question about a product at Sprouts, we walk you, not point you, in the right direction and help you make the best selection based on your needs. Plus, many of our team members started as customers just like you. They were so motivated by our unique combination of healthy items at affordable prices that they decided to drink the kombucha and apply for a job.