Grand opening events include 20% off, Vendor Sampling, Charcuterie Board Class and More, Friday through Sunday
PHOENIX, Ariz. – May 16, 2022 – Sprouts Farmers Market will open the doors to its new Apopka store at 2283 E. Semoran Blvd., Apopka, FL 32703. at 7 a.m. Friday, May 20. A ribbon cutting, with a special appearance from Apopka Mayor Bryan Nelson, will be held prior to doors opening.
"We are excited that residents of Apopka will have another option for fresh fruit, vegetables and a unique variety of grocery items," said Mayor Nelson.
Known for a curated selection of healthy products, Sprouts offers affordable organic produce, fresh meat and seafood, immune-boosting supplements, plant-based products, and more.
Grand Opening Weekend Events
From Friday, May 20 through Sunday, May 22, customers who text "GO" to 777-688 will receive 20% off their purchase when they scan their account barcode at checkout. Through the app, shoppers can view the Sprouts' weekly ad and save more than $100 with digital coupons on grocery staples and new items every month.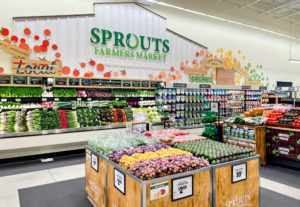 Throughout the weekend, customers are invited to sample products from innovative brands at the Vendor Village from 11 a.m. – 4 p.m. Friday through Sunday. Shoppers will be able to sample products from Dietz and Watson, MadTasty, and Bonterra each day, as well as join Magical Charcuterie sampling. Danny Seo will also be giving away coupon envelops worth fifty dollars to the first two hundred customers that arrive grand opening morning. Local customers can also enter to win a $500 Sprouts gift card by visiting sprouts.com/apopka.
Through Sprouts' Food Rescue program, the new store will donate groceries that are no longer fit for sale but remain perfectly edible and nutrient rich to Second Harvest Food Bank of Central Florida.
About Sprouts Farmers Market, Inc.
Sprouts is the place where goodness grows. True to its farm-stand heritage, Sprouts offers a unique grocery experience featuring an open layout with fresh produce at the heart of the store. Sprouts inspires wellness naturally with a carefully curated assortment of better-for-you products paired with purpose-driven people. The healthy grocer continues to bring the latest in wholesome, innovative products made with lifestyle-friendly ingredients such as organic, plant-based and gluten-free. Headquartered in Phoenix, and one of the largest and fastest growing specialty retailers of fresh, natural and organic food in the United States, Sprouts employs approximately 31,000 team members and operates approximately 380 stores in 23 states nationwide. To learn more about Sprouts, and the good it brings communities, visit about.sprouts.com.
###