Cookbook author and natural living television star to gift 150 customers with a signed copy of his namesake magazine during Sprouts Grand Opening Celebration
PHOENIX, Ariz. – April 15, 2022 – Sprouts Farmers Market will open a new store in Port St. Lucie, FL at 1759 NW. St. Lucie West Blvd., Port St. Lucie, FL 34986 on Friday, April 15.
Grand Opening Day Events
A ribbon-cutting ceremony will be held before doors open at 7 a.m. Every customer on grand opening day will receive a free reusable bag with purchase until supplies last. The first 200 customers will receive a "golden envelope" of money saving coupons from brands like Boiron, Bob's Red Mill, Sambucol, Purely Elizabeth, M Drive, Food for Life, MegaFood, Natural Delights and Four Sigmatic, including some coupons for FREE full-size products.
Also from 4 to 6 p.m. on grand opening evening, shoppers will have the chance to meet Danny Seo, Editor-in-Chief of Naturally, Danny Seo and Emmy Award-Winning host of NBC's Naturally, Danny Seo. The first 150 customers will receive a signed copy of the newest issue. Free magazines are available first come, first served.
"My magazine is designed for those who want to live healthily and choose foods mindfully, and Sprouts' farmers market atmosphere and abundance of fresh products full of goodness is a huge source of inspiration when I'm in the kitchen," said Danny Seo. "Cooking should be organic, creative, and delicious, and I'm looking forward to showing shoppers how to achieve just that with meals that are packed with nutrition and taste."
Weekend Savings and Events
From Friday, April 15 through Sunday, April 17, new customers with the Sprouts app can clip a digital coupon to receive 20% off purchase when they set the Port St. Lucie location as their store. Through the app, shoppers can view the weekly ad and save more than $100 with digital coupons every month.
On Saturday, shoppers are invited to celebrate Easter early with the Local Business Expo Easter Egg Hunt starting at 10 a.m. and the Tradition Community Egg Hunt from 1- 3 p.m. Throughout the weekend, customers will be able to sample products from Dietz and Watson, Melissa's Produce, and Celsius. Local customers can also enter to win a $500 Sprouts gift card by visiting sprouts.com/portstlucie.
Through Sprouts' Food Rescue program, the new store will donate groceries that are no longer fit for sale but remain perfectly edible and nutrient rich to Second Harvest Food Bank of Central Florida.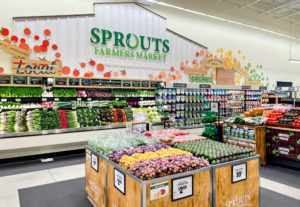 About Sprouts Farmers Market, Inc.
Sprouts is the place where goodness grows. True to its farm-stand heritage, Sprouts offers a unique grocery experience featuring an open layout with fresh produce at the heart of the store. Sprouts inspires wellness naturally with a carefully curated assortment of better-for-you products paired with purpose-driven people. The healthy grocer continues to bring the latest in wholesome, innovative products made with lifestyle-friendly ingredients such as organic, plant-based and gluten-free. Headquartered in Phoenix, and one of the fastest-growing retailers in the country, Sprouts employs approximately 31,000 team members and operates more than 380 stores in 23 states nationwide. To learn more about Sprouts, and the good it brings communities, visit about.sprouts.com.
###